On Monday, a panel of North Carolina judges signed off on a new congressional map drawn by the GOP legislature that effectively cedes Democrats two seats. Democrats had sued for even more opportunities but declined further appeals, finalizing the months-long saga. Candidate filing for the March 3 primary opened Monday and runs until December 20.

The new map effectively is all but certain to convert a 10-3 Republican delegation into an 8-5 Republican edge - a huge win for House Democrats and a pre-2020 insurance policy for Speaker Pelosi. The biggest losers on the GOP side: Reps. George Holding (NC-02) and Mark Walker (NC-06), whose Raleigh and Greensboro districts become safe Democratic seats.

Holding has strongly indicated he will stand down in 2020, though he could decide to seek a comeback in 2022 if the lines are more favorable in suburban Raleigh. The biggest question is what Walker will do: the Baptist pastor could either run against fellow GOP Rep. Ted Budd in the safely red 13th CD, primary Sen. Thom Tillis or forgo running in 2020 altogether.

This will be North Carolina's third different congressional map in four cycles, and there will be a fourth in 2022 after the Census, when the state is expected to pick up a 14th seat. All presidential election data for the new districts cited below is from Daily Kos Elections, a Democratic website respected by political aficionados of all stripes for its number-crunching.
Rating Changes
NC-02: Holding | Lean R to Likely D
NC-06: Walker | Solid R to Likely D
NC-13: Budd | Likely R to Solid R
2016-2018 North Carolina Congressional Map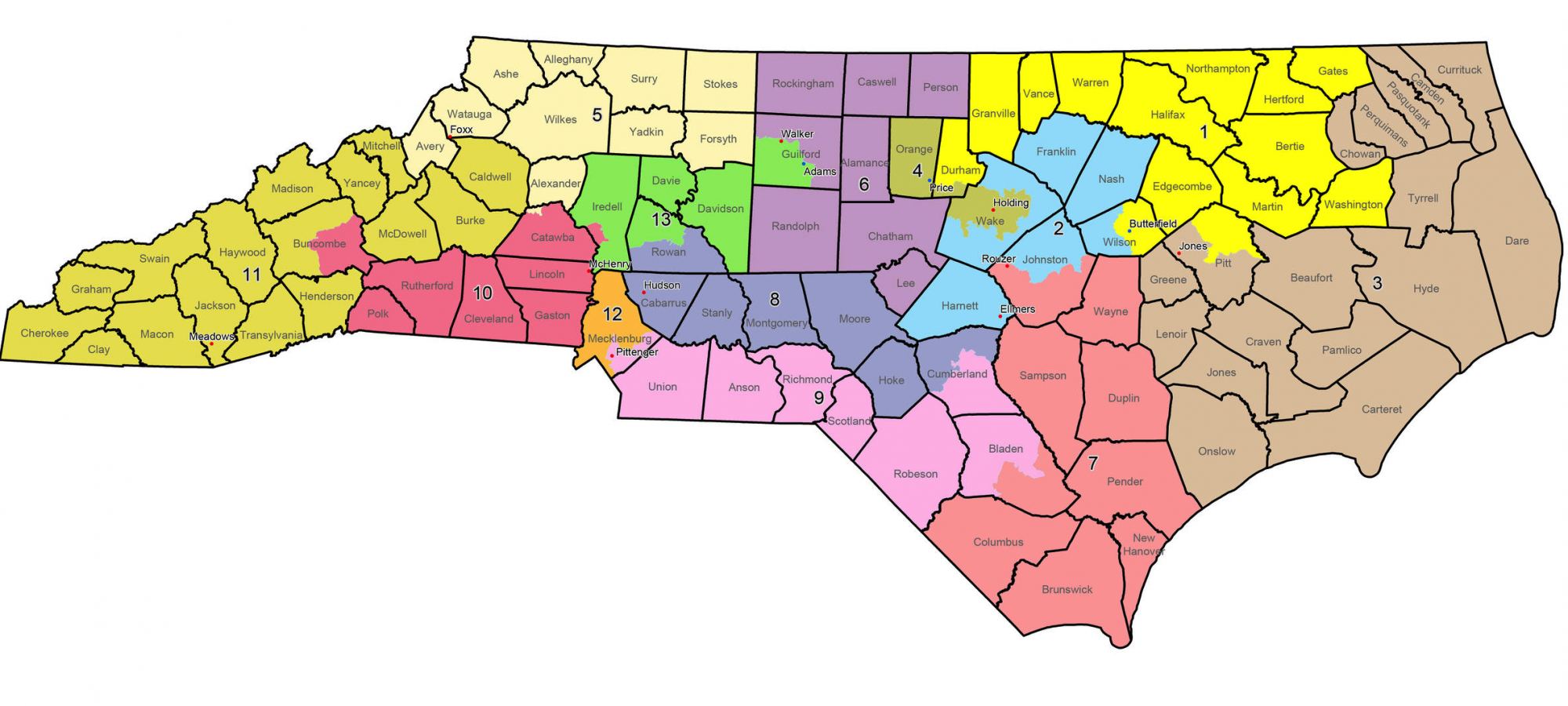 2020 North Carolina Congressional Map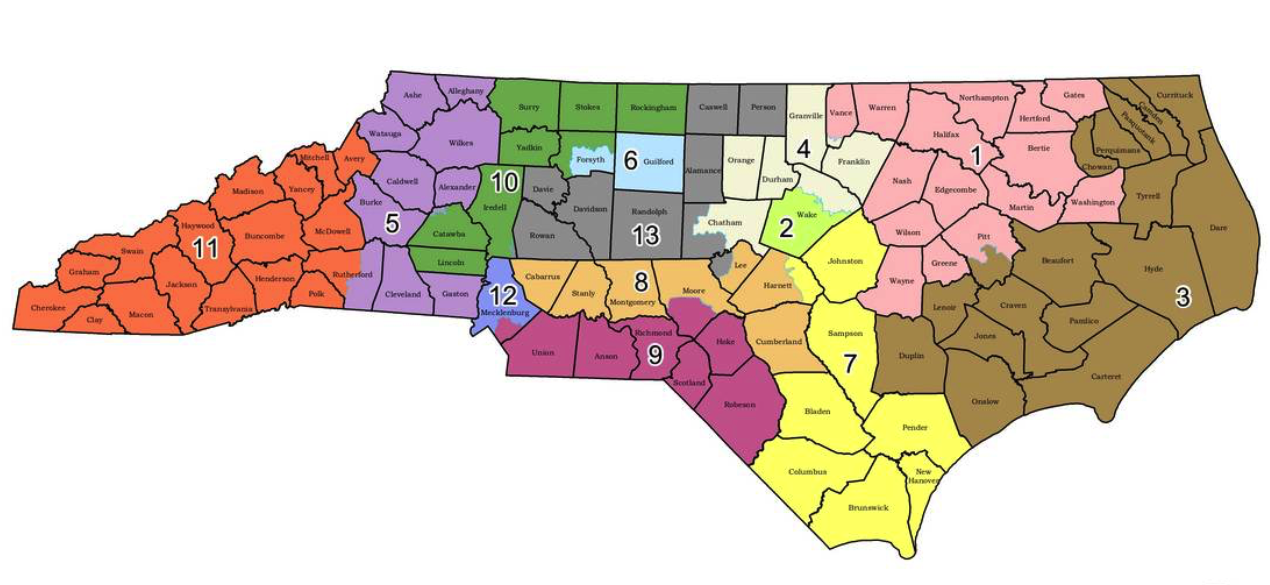 Updated Bottom Lines
NC-01: G.K. Butterfield (D) - Northeast: Rocky Mount, Wilson
Solid Democratic. Butterfield, a former judge from Wilson, loses very liberal Durham under the new lines, causing the 1st CD's 2016 Clinton share to fall from 67 percent to 55 percent. However, Clinton still carried the new seat by 11 points, so Butterfield will be fine under any normal presidential-year turnout scenario.

NC-02: George Holding (R) - Wake County: Raleigh and suburbs
Likely Democratic. Talk about a "total makeover:" under the new map, the 2nd CD sheds Republican outer suburbs and picks up all of the city of Raleigh, converting it from a district President Trump carried by 12 points to one Hillary Clinton carried by a massive 24 points - and rendering it unwinnable for any Republican. Holding has indicated he will forgo reelection.

The clear Democratic frontrunner in the March 3 primary is former state Rep. Deborah Ross, an attorney and former state ACLU director who represented parts of Raleigh for a decade before waging a $14 million Senate bid that fell six points short of defeating Sen. Richard Burr in 2016. Ross is lining up institutional support but won't necessarily have a free ride.

The new 2nd CD is 20 percent African-American, and the black share of Democratic primary voters is higher, but the question is whether one candidate can consolidate that vote. Wake County School Board member Monika Johnson-Hostler is in, but sources say former state Rep. Linda Coleman, who came within five points of beating Holding in 2018, is also considering.

Besides Holding (who could come back in 2022 if he gets a more favorable district), another loser in the redraw is Democratic Marine Corps veteran Scott Cooper, who raised $455,000 to take on the GOP incumbent but will now be a long-shot in a crowded Democratic primary. If no one clears 40 percent in the primary, the race would head to a May 12 runoff.

NC-03: Greg Murphy (R) - East and coast: Jacksonville, the Outer Banks
Solid Republican. Murphy, a urologist and former state representative from Greenville, won a September special election by a whopping 24 points, matching President Trump's margin in the district. Under the new map, the lines are for the most part unchanged, so Murphy is in the clear.

NC-04: David Price (D) - North central: Durham, Chapel Hill
Solid Democratic. Price is an institution in this liberal Chapel Hill district, and under the new lines he gains back Durham, which he's represented extensively before. There was some chatter that Price, 79, was considering retirement but he's filed for reelection and should win another term easily.

NC-05: Virginia Foxx (R) - West: Gastonia, Boone
Solid Republican. Under the new lines, Foxx's 5th CD loses the city of Winston-Salem and somewhat awkwardly gains a few Charlotte exurbs, pushing President Trump's 2016 share up from 57 percent to 67 percent. Some speculate GOP state House Speaker Tim Moore drew his Cleveland County home into the district to set himself up whenever Foxx, 76, decides to retire.

But there's little indication Foxx is ready to call it quits and Moore appears unlikely to primary her. Instead, Foxx could get a primary from a different Charlotte area Republican, possibly Gaston County Commissioner Tracy Philbeck. There is also talk that Wayne King, an ambitious aide to 11th CD Rep. Mark Meadows who lives in Cleveland County, could run as a hardcore Trump backer.

NC-06: Mark Walker (R) - Piedmont Triad: Greensboro, Winston-Salem
Likely Democratic. The new 6th District fulfills Democrats' long-held dream of uniting the Piedmont Triad of Greensboro, Winston-Salem and High Point. The old rural/exurban 6th CD voted for Trump by 15 points; the new one voted for Hillary Clinton by 21 points, rendering it unwinnable for Republicans. Walker hasn't yet announced his plans but certainly won't run here.

The initial frontrunner in the March 3 Democratic primary is Greensboro attorney and philanthropist Kathy Manning, who spent $4.1 million (including nearly $600,000 of her own money) to fall six points short against GOP Rep. Ted Budd in the 13th CD in 2018. All that ad spending aired in the new 6th CD, giving her a huge name recognition head start against other potential candidates.

However, Manning ran as a pragmatist in the competitive 13th CD and the new 6th CD is quite liberal and 31 percent African-American. Winston-Salem state Rep. Derwin Montgomery, a 30 year old pastor and homeless shelter executive, just announced he's running and could have a regional appeal as an African-American candidate from Forsyth County.

Former Greensboro City Manager Denise Turner Roth could also be a serious contender if she files. But it's possible several African-American candidates, including Roth and former Guilford County Commissioner Bruce Davis, could split votes. Manning needs to clear 40 percent of the vote in the March 3 primary to avoid a May 12 runoff. It's now a safe Democratic seat.

NC-07: David Rouzer (R) - Southeast: Wilmington, Johnston County
Solid Republican. Rouzer emerged totally unscathed in the latest redraw; his 7th CD was barely touched and still includes his longtime political base of Johnston County as well as his newly adopted hometown of Wilmington. He survived 2018 by 13 points and isn't in any trouble in 2020.

NC-08: Richard Hudson (R) - South central: Fayetteville, Concord
Solid Republican. A former longtime Capitol Hill staffer, Hudson has entrenched himself in this seat; he won by 10 points in 2018. Under the new lines, the 8th CD takes in all of Fayetteville's Cumberland County and Trump's 2016 margin drops from 15 points to nine points. But Democrats - especially state Sen. Ben Clark - had been hoping for a more radical shift. Hudson should still be fine.

NC-09: Dan Bishop (R) - South: Charlotte suburbs, Lumberton
Likely Republican. It helps to have friends in the right places: unlike several more senior GOP members from North Carolina, Bishop benefited from the goodwill of his former state senate colleagues, who made protecting him a priority in the redraw. The 9th CD still stretches from the Charlotte suburbs to Lumbee Tribe areas where Bishop overperformed in the September re-do election.

Under the new 9th CD boundaries, President Trump's 2016 margin narrows from 12 points to 10 points, owing to taking in a slightly different set of precincts in Charlotte's Mecklenburg County. Bishop defeated Democrat Dan McCready by just two points in September, but McCready is unlikely to wage a third grueling campaign in two years. Advantage: Bishop.

NC-10: Patrick McHenry (R) - West: Hickory, Mount Airy
Solid Republican. McHenry, an eight-term incumbent at age 44, is now ranking member on the Financial Services Committee and likely future member of House GOP leadership. But under the new lines, his district undergoes a radical redraw: he loses Gaston and Cleveland counties (almost half the 10th CD's population) and picks up five Piedmont Triad counties near Virginia. Still, for now he's in good shape.

McHenry currently represents only about 35 percent of the new district, but has represented about 45 percent of it when taking into account previous maps. According to sources, GOP Rep. Mark Walker (NC-06) is poll-testing himself against McHenry as well as GOP Rep. Ted Budd (NC-13). But he only represents one county in the reconfigured 10th CD, and a run in the 13th CD would seem to make more sense.

NC-11: Mark Meadows (R) - West: Asheville, Smoky Mountains
Solid Republican. The new map basically restores the 11th CD to its pre-2011 configuration by returning the liberal, countercultural haven of Asheville back to this Western North Carolina district. But that doesn't mean Meadows is suddenly vulnerable: the alterations shrink President Trump's 2016 margin in the 11th CD from 29 points to a still-robust 17 points. Democrats didn't flip a seat that red in the "blue wave" of 2018.

Retired Air Force Col. Moe Davis is running on the Democratic side, but the real question is how long Meadows wants to stay in the House. The former Freedom Caucus head and vociferous Trump ally hasn't officially filed for reelection as of this writing and several sources speculate he could sit out the next Congress to wait for a cabinet post if there's a second Trump administration.

NC-12: Alma Adams (D) - Southwest: Charlotte
Solid Democratic. Despite originally hailing from Greensboro, Adams has settled comfortably into this district ever since it was redrawn to be entirely in Charlotte in 2016. The new lines barely change its configuration, and Adams, one of two African-American Democrats from the state, is totally safe.

NC-13: Ted Budd (R) - Central: Burlington, Asheboro
Solid Republican. Budd, a gun shop owner backed by the anti-tax Club for Growth, came to Congress in 2016 thanks to a new map that created a GOP-leaning seat in his backyard. This latest redraw is more of a mixed bag: it upped Trump's 2016 share in the 13th CD from 53 percent to 67 percent, making it a GOP fortress. But now Budd could get a primary from next-door GOP Rep. Mark Walker (NC-06), who was drawn out of a seat.

Walker, the former pastor of a large Baptist church in Greensboro, may have been targeted by GOP state legislators because he won his seat in 2014 by ousting state Senate President Phil Berger's son in a contentious GOP primary. And, Walker also did himself no favors by floating a primary against Sen. Thom Tillis (a former state House speaker) earlier this year - although Walker could still challenge Tillis too.

Walker says he's praying about his predicament with his family. In Walker's favor, he currently represents roughly half of the new 13th CD despite living outside the boundaries. But Budd, who represents a little over a third of the new 13th CD, just came off a competitive reelection (he spent $2.3 million boosting his image in 2018) and could count on outside help from the Club for Growth. It's still developing.